The non-traditional whimisical wedding of Lindsey and Nate was dark and alternative, dripping in personal details from start to finish. (from the bride) The inspiration for our décor was based on a painting by our favorite artist, Ivan Albright, "The Door". This painting is so detailed, hauntingly beautiful, emotional, and vintage… and that's how we saw the setting for our wedding. However, our main focus was on how to make the actual wedding day reflect us.
From the beginning, Lindsey and Nate did not want a traditional wedding – Lindsey wanted her wedding to be a fun affair with none of the formalities she had seen in other weddings. We knew many of the choices we made were non-traditional, but we didn't focus on what others expected for a "wedding", but rather what we wanted for a celebration with our family and friends. Everything we incorporated had a story behind it and it was so amazing to be surrounded by things so personal on our big day.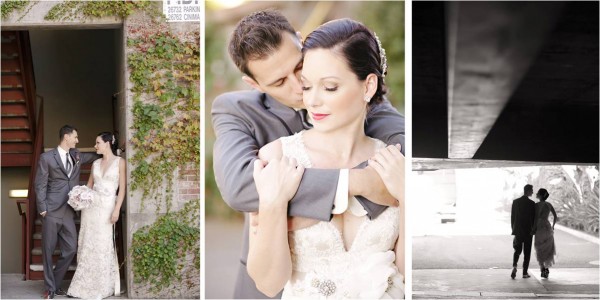 The ceremony was held during an extended cocktail hour and only a few pews were set out for immediate family to be seated. Guests knew what they were getting into the second the Officiant, Lindsey's brother, started the ceremony with a quote from Princess Bride "Marriage. Marriage is what brings us here today", funny accent and all! Several vintage vignettes were placed around Franciscan Gardens to create casual seating, and after the ceremony 24 Carrots tray passed heavy appetizers including fish and chips, tacos, short rib and mashed potato martinis, etc.
The entire wedding was themed around what Lindsey and Nate love and cherish most. Lindsey's back tattoo was the inspiration for the wedding decor as Nate said the branches symbolized her being dark, while the roses symbolized her girly, beautiful personality. The whole wedding had a romantic, but dark side. Nate's love of constellations was reflected in the picture frames on the tables.
Whenever there is a formal affair, Nate's family wears various colored bowling shoes with their suits and this big day was no exception! Lindsey and Nate also picked out custom suspenders for each of the groomsmen and fathers to reflect their personalities. Because Nate is a geologist, guests signed and wrote well wishes on rocks and placed them in a vintage suitcase as a guest book.
For favors, guests were given post-it notes with "…to the Eskimo Nebula" written across the top – first of all, that is Nate's favorite constellation and from the beginning of their relationship, he would tell Lindsey "I love you to the Eskimo Nebula and back"; second, there was a point in their relationship when they were dating long distance and when they would stay at each other's houses the guest would hide post-its all over so that the other would continue to find them for weeks or months after.
Lindsey is absolutely OBSESSED with twinkies – like eat a box every week, obsessed – so for dessert, there was no other option then to create a custom twinkie cake for the cutting and then guests were able to partake in a twinkie sundae bar – and obviously the extras did not go to waste!
Into the night, guests danced to songs like The Time Warp, got silly in a polaroid photo booth, and enjoyed hot pretzel late night snacks!
Lindsay and Nate's Advice for other couple's during the planning process:
L: #1… Hire a Wedding Planner/Coordinator!!! It was essential for our wedding. All the great ideas that you see in magazines and blogs can become overwhelming. A planner will help make it cohesive and ensure everything goes smoothly. Also, make it fun and about the two of you. (We PROMISE we did not make Lindsay say that!!) We started the planning process by thinking of what thingsshouldbe at a wedding, but then started thinking about whatwewanted at a wedding. After that, it became more fun rather than stressful. My motherstillshakes her head at the thought of Twinkies and ice cream, stripped socks under my wedding dress, and Nate in bowling shoes… but it was so us and we loved it!
N: Take the budget your bride gives you and double it in your head… be prepared. 🙂
L: When the big day arrives, try as hard as possible to let all those expectations go. If you focus too much on what you planned for, you will miss what is actually going on around you… the best moments are those you didn't plan. Just surround yourself with who and what makes you happy… and leave everything else to the professionals!
Lindsay and Nate and their families were an absolute pleasure to work with – thanks so much to them for allowing Intertwined Events to be a part of their special day and all their unique details! We wish them all the happiness in the world! To see more photos please visit our Facebook!
Vendors:
Event Planning and Design – Intertwined Events, Katie Webb
Venue – Franciscan Gardens
Rentals – Found Vintage Rentals
Makeup Artist – Kacee Geoffroy
Florist – Floral Occasions
Entertainment – DJ; Steve Burdick
Bakery – Sweet Gems
Paper Goods – Pitbulls and Posies, Amber
Catering – 24 Carrots
Photographer – Britt Rene Photography
xoxo,
The Ladies of Intertwined Events
P: 949.748.8786 E: info@interwinedevents.com
See what's inspiring us on Pinterest, Facebook & Twitter
We are proud to announce that Intertwined has won "The Knot Best of Weddings" and Wedding Wire's "Bride's Choice Award" for 2011 & 2012