We are so excited to share the amazing and BRIGHT photos fromThe KnotMarket Mixer OC event! This event atThe Chuck Jones Centerwas not only fun to plan, but a blast to be a part of as well. Bold patterns and bright colors played into every aspect of the event from the dance floor, to the linens, flowers and the pillows on the chairs!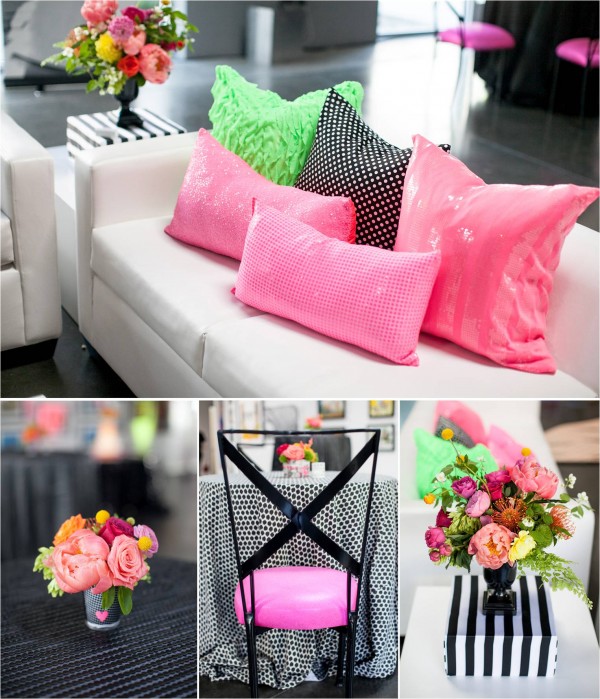 Our very own fabulous Katie Webbdreamed up thisneon vision while doing what we all do best – shopping!Kate Spadehad just come out with a line full of neon colors and striking patterns. Katieknew this was the PERFECT inspiration for The Knot Market Mixer. She applied the neon pop art feel to every little detail, including the gorgeous flowers byInviting Occasions These flowers were absolutely to die for! Bright blooms of pink, green and yellow with the most perfect custom acrylic vases. To add an even more special touch,Pitbulls and Posiescreated modern custom signagewith acrylic stands and bold fonts that added the perfect flare to each food station!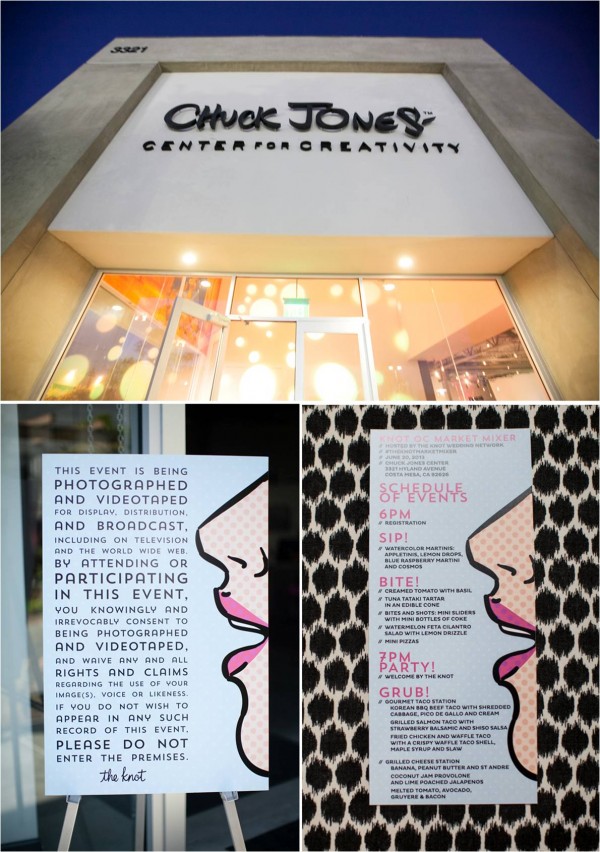 What more could you ask for than to spend a night with great people and great food?!24 Carrotsdid an impeccable job of capturing the bright and fun theme. The Martinis, mini pizzas, sliders and mini coke bottles were just too perfect but the real punch came in the form ofspiked shaved ice! Yes please! And how could we forget the desserts?! The fanciful AND tasty desserts bySimply Sweet Cakerywere the perfect touch next to the gorgeous cake created byChristopher Garrens! As if the sweet treats weren't delicious enough,Sidecar Doughnuts & Coffeewas at your service as guests made their way out!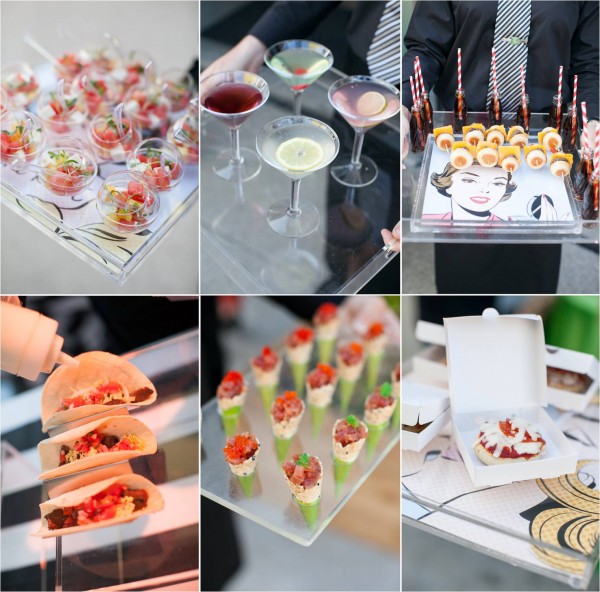 Katie and all the ladies of Intertwined would like to give a HUGE thank you to the ladies ofThe Knotfor allowing us the awesome opportunity of planning andhosting the OCevent and an even bigger thank you to everyone thatcontributed andattended. We hope you had as much fun as we did! Be sure to check out the awesome video shot byPerryfield Films!
Event Styling and planning:Intertwined Events
Venue:Chuck Jones Center for Creativity
Catering:24 Carrots
Cake:Christopher Garrens
Bakery:Simply Sweet Cakery
Rentals:Classic Party RentalsandLa Tavola Linen
Florals:Inviting Occasions
Hair and Makeup:Kacee Geoffroy
Photography:Allison Maginn
Video:Perryfield Films
Doughnuts & Coffee:Sidecar Doughnuts & Coffee
Paper Goods:Pitbulls and Posies
Lighting:Peterson Lighting
Live Artist:John Nguyen
Photo Booth:Smile Lounge Photobooths
Dance Floor:Platinum Pro
Wine:Cambria Estates
xoxo,
The Ladies of Intertwined Events
P: 949.748.8786 E: info@interwinedevents.com
See what's inspiring us on Pinterest, Facebook & Twitter
We are proud to announce that Intertwined has won "The Knot Best of Weddings" and Wedding Wire's "Bride's Choice Award" for 2011, 2012 & 2013!