WhenErica approached me and asked if I wanted to design the winter window display for Studio 404, I knew I couldn't pass up the offer. Not only did I love working with Erica a couple months prior, but she had spoken so highly of her studio co-workers and I knew I had to meet them. I was in for a treat when we all got together to brainstorm this non-traditional winter window!
Inspired by the large, oversized elements of a recent Anthropology catalog, we wanted to create snowflakes that you could see from the street. Using wrapping paper, construction paper and YouTube tutorials, we createdfour large snowflakes to hang from the ceiling.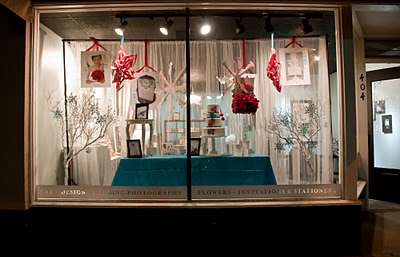 Traditionally, you decorate for the holidays with red and green. At Studio 404, we use Teal and Red! I love the bold color palette and more importantly, you can see it from the street as you drive past. Of course you have to check out the unreal cake that Erica designed…I love every bit of this piece!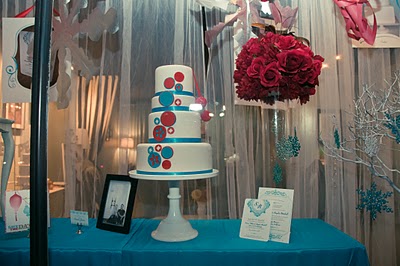 This was such a fun window to design and I'm so proud of how it turned out!
Thanks to Amy,Charla,Monica, andErica for allowing us to be a part of this – we loved working with you and can't wait to see what 2011 has in store for us all!
Continue to Elevate,
K.