If you've seen the movie Bridesmaids, then you know that picking the perfect bridal party dress can be a difficult aspect to planning any wedding -well hopefully not 'that' difficult! Let us help you find the perfect dress for your favorite gals!
To start off, we love dresses that are flattering in their cut and length! As the bride-to-be, you must first decide if the wedding will be formal or semi-formal, this will determine the length and cut of the dress. In addition, you must decide on the color(s) that will be used for the dresses. Another major decision to be made is whether or not the bridesmaids will be able to have different cuts of the same color dress in order to flatter their individual body type, or different shades in the same cut.Remember brides, while this is your wedding and ultimately your decision, please handle dress selection with the utmost gracefulness and class and always think of those that are spending their time and money to stand beside you on your most important day.
For a formal wedding, a floor length and more elegant fabric are in order. We love this beautiful dress by Jim Hjelm. The graceful sweeping of fabric over the shoulder and nice form-fitting shape are simply dazzling for a formal affair!
For a more semi-formal or casual wedding, selecta shorter length dress with a more flow-y feel! This dress from Cynthia Rowley has everything you should look for; with the fun of an A-line and the lightness of the body, this dress is perfect for a less formal wedding!
If your wedding is more funky and trendy, we love a high textured dressina neutral color with the addition of some fun, statement jewelry
Nothing says fun and flirty like a one shoulder draping in a bold color!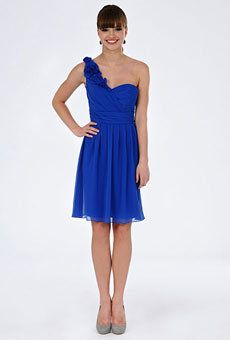 No matter what your wedding style, there is the perfect dress for your bridal party! Send us some of your favorite looks and designers!!
xoxo,
The Ladies of Intertwined Events