AlthoughPantone says that Honeysuckle is the color of the year for 2011, I would have to disagree according to the couples we have been working with. Purple is in and honeysuckle is out!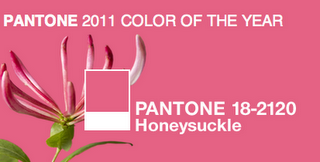 Sixty-five percent of our couples this year are incorporating the color purple into their big day. Whether they are using it as an accent color, just as their shoes or as their main element, we are seeing it everywhere. But I have to admit, I love it. Purple is such a beautiful color and with the royal wedding soon approaching it seems relevant since purple is the color of royalty and power. In the past, purple die was more expensive so if you were able to have purple clothes or silks, it meant you were well off.
The other benefit of using the color purple is it goes with so many other colors. Although we have many brides using the color purple, they are all using it with different colors ensuring that each wedding is truly going to be unique and personalized to the couple.
For example, this not so traditional bride with her black gown looks stunning. Her bouquet of purple flowers with red, green and black accents is equally as stunning and creates a look I have never seen before!
Paired with red, this bouquet is bright and could easily fit into a spring or summer wedding. It's regal and sophisticated without being too feminine.
Talk about the perfect look for a spring wedding! I love the different tones of purple incorporated into this inspiration board. Paired with charcoal grey, it keeps a masculine element in the wedding but still gives the bride the feminine and girly look she wanted.
Another perfect for spring or summer pairing is purple with green and teal. I love how this look is fresh and sophisticated.
And my favorite photo of the wedding, purple with peacock feathers and other "not so floral" elements. I love a bouquet that has texture and character; this has all of that and more. From seeing the bouquet, I know I want to see more of this wedding!!
If you are looking for more purple wedding inspirations, I encourage you to check outCelebrity Wedding Reporter. There are many more purple inspiration photos, advice on incorporating it into your wedding and more. You might even see a purple inspired photo shoot we recently did with Ashley from APictureLife Photography!
Continue To Elevate,
K.