SCHOOL YARD LOVE
Jenna and Matt met in elementary school, and while their love story did not start there, it inspired their adorable wedding! Jenna and Matt's wedding ceremony was held at the Wayfarers Chapel; the almost entirely glass structure is stunning and overlooks the ocean cliffs of Palos Verdes! Instead of opting for the traditional, the theme was incorporated in their unique cootie-catcher ceremony programs – so adorable!
The reception was then moved to The Reef Restaurant in beautiful Long Beach. During the cocktail hour, guests were able to sign the 'Äòguest book' a large canvas where guest could place their fingerprint to create leaves on a tree, find their grade (AKA tables) on pencils, enjoy the courtyard with adorable school bus florals from Tustin Florist Floral Designs, and visit the silhouette artist!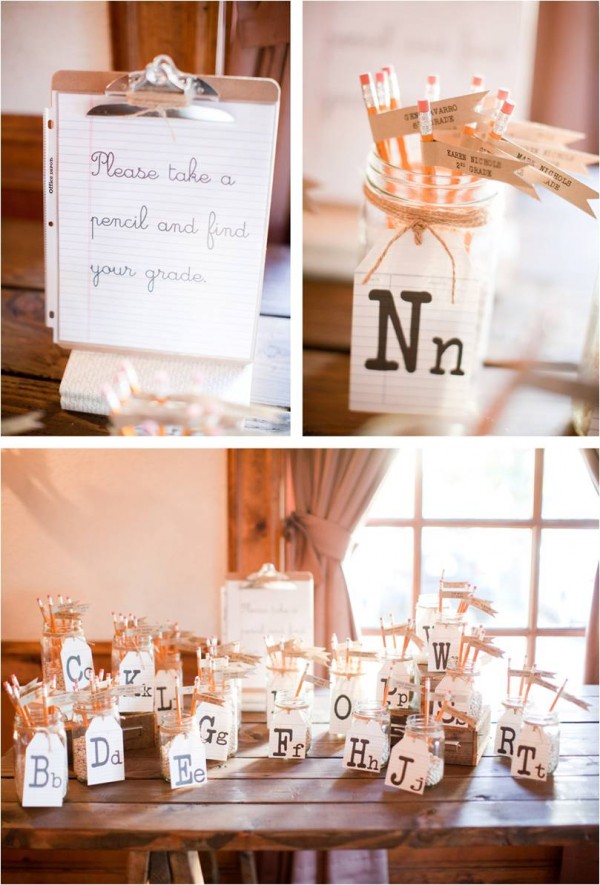 At the dinner reception, the sweetheart table was a vintage school desk from Archive Vintage Rentals with its drawers filled with flowers and top covered in school accessories – globe, clock, etc.! Guest tables were coved in mason jars filled with flowers and a chalk-board with their grade on it! The corner tables had large tree-like centerpieces that had a swing hanging down – a favorite of the playground structures!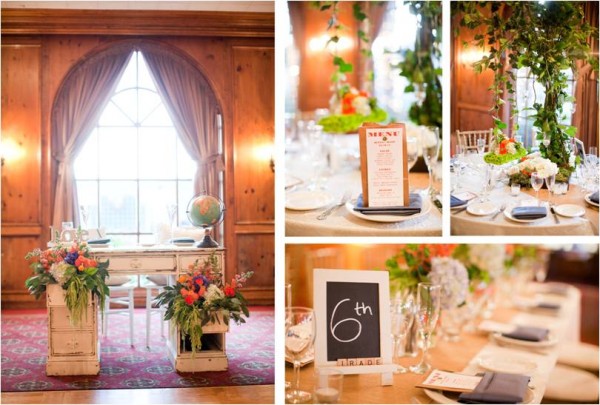 Rossmoor Bakery provided the cake, which was subtly covered in words that Matt picked to describe Jenna and their relationship. In addition to a cake, there was a traditional bake-sale (what lunch hour was complete without it?!) that had all of your childhood favorites – funfetti cupcakes, ding-dongs, circus animal cookies, twinkies, and anything else that your childhood self could have desired!
The guests had a blast dancing to DJ Andy Nation and sharing in the love of Matt and Jenna! The beauty of this wedding was captured by Candice Benjamin Photography and videographer Click 54.
You can see more photos from this wedding on our Facebook, and a special thanks for Ruffled for featuring this incredible wedding!
Congratulations Jenna and Matt! What a love story – and we were so honored to be a party of your day!
xoxo,
The Ladies of Intertwined Events