Can you say, "dripping in bling?" That is the exact definition ofthis winter wonderlandwedding atthe beautiful Renaissance Esmeralda Resort and Spa in Palm Springs!
The ceremony space looked as though a light flurry of snow had just fallen – white Manzanita trees and hurricane vases lined the aisle, from Jenny B Florals, with silver chiavarri chairs, from Chiavari Chair Rentals, that had been drapped, sashed, and secured with a large broach. The space took on an atmosphere of its own and guests were transported to a winter forest.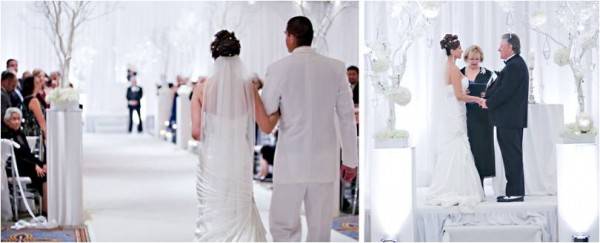 At cocktail hour, guests picked up perfume-bottle escort cards beautifully displayed on mirrored trays. Guests enjoyed drinks, light appetizers, and mingling before the reception.
The reception was equally as beautiful, but was more of the 'wonderland' in the winter wonderland! Cobalt blue up-lighting transformed the room, huge white florals filled the center of tables and spilled streams of crystals,with vignette bar seatingadding a trendy element! The bride, with the help of her family, hand made almost every bling-ed out, glam element; from napkin rings, chargers, and menus to her shoes and even her veil, Marta took great pride in her handy-work (and well she should – gorgeous)! The gorgeous event was captured by Steven Wayne Photography and Ashley Video Productions.
Congratulations to Marta and Gil, we wish you a lifetime of happiness! Take a look at our Facebook for more photos from the wedding. Also, to see how this wedding came to life, look at the inspiration from our Winter Wonderland Themed Thursday!
xoxo,
The Ladies of Intertwined Events