Photo Courtesy of Cory O'Brien
Whoever said you can't have your cake and eat it too never met
Erica O'Brien
. The Long Beach cake designer intertwines the art of design and gastronomy to concoct creations tantalizing to both the eye and the tastebuds.
"I see the world in cake. I'm in my kitchen looking at the Mexican tiles, and I would love to make these as a cake," Erica said.
The native New Yorker loves transforming one-dimensional inspiration into tasty 3D masterpieces.
"I like when clients bring in ideas that are sort of 'Äònot cake' and ask how it would look as cake," Erica said.
Photo Courtesy Jose Villa
Invitations are her favorite "jumping off" point for artistic interpretation. She'll take a motif from the stationery and bring it to life on mouthwatering layers of fondants and buttercream.
Erica's cakes burst with color and modernity'Äîshe's not a traditional white-on-white frosting type of gal. One of her greatest strengths, however, is working with each client's unique vision.
"I think it's a true collaboration between me and the client," Erica said. "I really want to know what they like and within that framework create something that is still true to my style."
Each dream begins with a sketch. Brides come in with their ideas. Erica visualizes them; then puts them on paper. Usually, she pinpoints the first design, but she's happy to tweak the sketch until it's flawless. She thrives on this creative process.
Photo Courtesy of Henry Chen
"Brides will come to me with eight different cakes'Äîit's almost like putting together the pieces of a puzzle. Even though the cakes look different, I like to find the common thread and really make sure I find the aesthetic," she said.
The finished products are exquisite: from a scrapbook motif she deems her favorite to a set inspired by Oscar de la Renta (yes, we said Oscar!), Erica's cakes break the rules in the most fabulous way possible.
Pair this aesthetic appeal with her divine flavors and the result is most certainly sinful indulgence.
"I read an article that cakes either look good or taste good … I don't believe that. Cakes can and should taste good," Erica said.
With over 40 filling choices, including chai-spiced ganache, rose buttercream, and blackberry conserve, we're already salivating'Äîespecially when you can pair them with cake flavors like almond, lemon or black velvet.
Erica's personal favorites are her chocolate and her carrot cake, which she swears are the best you've ever tasted.
"I love chocolate but you usually can't find brownies or cakes 'Äòchocolately' enough. My cake is intensely chocolate and I love it," she said.
Photo Courtesy of Jessica Claire
Of her carrot cake she says slyly, "I have a secret ingredient. If you like carrot cake, you'll love mine. If you don't like carrot cake, you'll like it."
What's more incredible is that Erica is self-taught. She views baking as a crucial science, but never finished culinary school.
"The secret is butter … the French have it right. It's delicious," Erica said.
Making cakes was her hobby until she fell in love with her now-husband of six years, Cory, and moved across the country. She's owned Erica O'Brien Cakes for five years, yet you'll never see her with a storefront shop.
"I don't want one'ÄîI'm more interested in the artistry. I don't want to make a gazillion cupcakes a day, that's not why I do it … I only do cakes that are designed rather than generic," Erica said.
Her cakes are labors of love. She makes only two cakes a day and resists the idea of getting more assistants to turn over more business.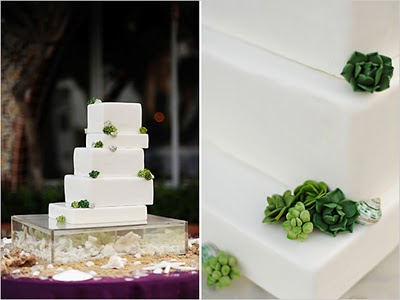 Photo Courtesy of Jordana Hazel
"Artists are probably not the best business people'Äîit's like having someone else do a painter's painting for them," she said.
We're not complaining. With cakes that look just as scrumptious as they taste, the only thing left is to say as the French: bon appetit.