On your special day, you should feel beautiful from your head to your toes, and that is exactly why picking the perfect wedding shoes is so important! To start off, you need to choose a heel height that is do-able for you; if you are uncomfortable in a sky-high heel choose a reasonable or kitten heel, or even a sleek ballet flat.
If you dare to go high, we love an elegant white pump to elongate the legs and enhance posture!
For alow heel, we love this shoe with its delicate detailing and fun, frilly bow!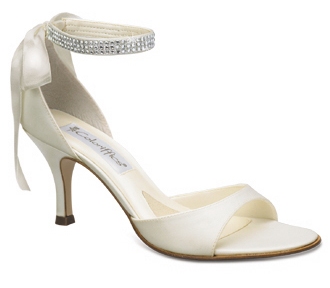 Although some shade of white is a traditional look, many brides are opting for their shoes to be their "something blue" or a fun pop to match their accent color! For your "something blue" we love this delicate blue heel, its fun shape and light color allow it to be a subtle look!
However, if you want to incorporate your "something blue" in another way, have family members write a short note on the bottom of the bride's shoe in blue marker! Too cute!
If you want to go for comfort, no need to sacrifice style – we love these adorable flats that scream "Im In Love!"
If you are looking to incorporate your accent color, we love a heel with a pop! This shoehas fun ruffling and is a great color that will not distract from the dress itself!
However, with all of this said, you should never go against who you are, and if that means that you are walking down the isle in cowboy boots oryour favorite pair of toms…do it!
xoxo,
The Ladies of Intertwined Events