From the time we were little girls, our mothers have passed down a few secrets of womanhood'Äî how to apply make-up just right, that it's unladylike to burp in public, boys will always have cooties, and most importantly, how to shop. With this last, crucial skill, our moms handed us the ever-critical question: "what should I wear?" It's one that makes us dread stepping into our closets during wedding (bikini, holiday, etc)seasonwhen we know we don't have an answer.
Fear not. We've found the perfect, budget-friendly solution both the busy bride and the wedding social butterfly with a packed planner will adore: Rent the Runway.
Think designer-on-a-dime.
At RTR, you can access all of your favorite designer adresses for 90% off the original price. They'll send you your size plus a complimentary extra size in time for you to stop the show at your next big event. To return, simply put the dress back in the envelope and drop it in the mailbox'Äîno dry cleaning required.
Yes, it's really that easy.
With selections from over 95 designers, we're wondering where RTR has been all our lives. Whether you need a new dress for your engagement party, shower and bachelorette party or one for the three weddings you have next weekend, RTR ensures you'll never dazzle the same way twice.
We promise you'll look like a million and spend nothing. Here are some of our faves:
Theory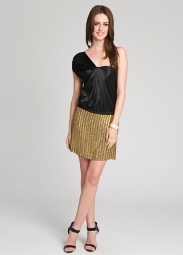 Badgley Mischka
Twelfth Street
Dream Big.
M.
?