Obsession (n) : 1. "a persistent, disturbing preoccupation with an often unreasonable idea or feeling." 2. "compelling motivation." 3. How we feel about Stella Alberti's impossibly adorable couture flower girl dresses.
We first spotted Stella Alberti's work on a six-year-old, too cute for her own good, handing out business cards at the
Hitched Event
. Yes, we shamelessly succumbed to her excellent marketing ploy. You would too'ÄîAlberti's handmade designs are elegant, extravagant, and simply to die for.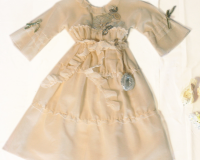 Her work is inspired with Argentinean flair: Alberti used to be an art professor at Escuela de Arte in Cordoba, Argentina. With an eye for texture and whimsy, Alberti's creative genius is sure to turn heads. Your flower girls will blossom when they walk down the aisle.
A word of caution: they might just steal the show.
Dream Big.
M.