We all know how difficult it can be to A) Pick an outfit for the little ones in your wedding and B) Get them down the aisle! That is why we LOVE dressing up our flower girls and ring bearers in something untraditional so that they will be adorable and want to show off their outfit!
For flower girls, why not dress them up?! If your colors are black, white, and red put them in a Little Red Riding Hood or Queen of Hearts outfit – there is a princess or fairytale character for all color palettes! If your wedding is more classic, dress her up as Audrey Hepburn from Breakfast at Tiffany's! Or if you want to go for something a little more simple, give her a wand, wings, and/or crown – nothing is more adorable than having a flower girl flitting down the aislefelling magical! When all else fails…a tu-tu goes a long way to getting her down the aisle in something she loves!

For the ring bearer, we absolutely adore and play up the 'Äòring security' aspect! For a less formal wedding, put him in a black tee with ring security on the back; or take it one step further for a formal wedding – have him with a mini silver briefcase, sunglasses, suit, and fake ear piece! The Ring Security always feels so important and almost always ensure he makes it down the aisle!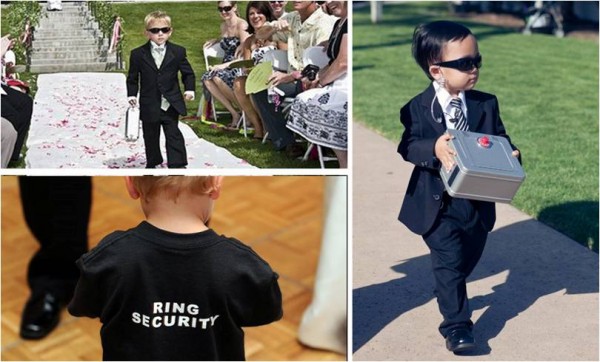 What will your little ones be wearing?
xoxo,
The Ladies of Intertwined Events