Cheers! You found it, as you see six yards of pearl white silk perfectly drape around you. Your mom, sister, and planner well up with tears at the very site of you. You have long imagined looking back at yourself on a platform from this angle. There is so much of an emotional and financial investment put into finding the one gown that turns any ordinary woman into a princess-for-a-day!
Of course, the final relief of finding the dress that perfectly contours to the curves of your body and accentuates every god given proportion perfectly stems from a long journey. Will it be silk, satin, organza, or tull. A-line, mermaid, or ball gown? Or will you embrace the romantics of a long train attached to a fitted lace bodice?

With so much to choose from and so much to keep in mind, this can be one of the most overwhelming decisions of planning a wedding, but of course, also the most exciting. The first thought that goes through a young woman's mind when they think of their wedding, is usually what their dress will look like, second being location. It doesn't truly set in until you are staring back at yourself in a long mirror with a lace trim veil falling past your shoulders.
At The White Dress Bridal Salon, located in Corona del Mar, there are plenty of expert stylists who will help this experience become more exciting than overwhelming. With twenty different designers, such as Amsale, Nicole Miller, and Reem Acra, you are bound to find "the one" and when you do, its tradition to pop a bottle of champagne and together toast to this newly acclimated vision of yourself as a bride to be.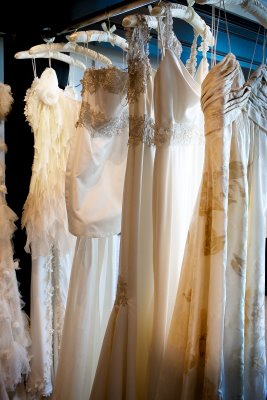 The White Dress will do everything in their power to make this experience as special as the one you have been dreaming up since you were a little girl. If family and friends are far, they can log on to the live webcams at www.thewhitedress.com and be there to experience this memorable time with you. (we love this!)
Important factors to keep in mind while searching for your perfect gownare location and formality. If the wedding you have been dreaming of consists ofwhite sandy beaches in Hawaii, it may not be best to go with a long train. Although, if your dream wedding consists of a white sandy beach and a long train then maybe consider thataisle runner and make that dream come true!

Imporant shopping tip: sift through thosebridal magazines and cut out silhouettes and designers that catch your eye so that the stylist can better assist you in picking through their inventory ofhundreds of dresses, but trust them to bring you something they recommend too! They are they experts!Since the gown usually sets the tone of a wedding, take a picture after you purchase the gown so you can better research accessories, colors, tones, and bride's maid dresses.
So, here is a toast to making this the most exciting, unique, and memorable shopping experience of your life!
To the White Dress, The Ladies of Intertwined